Dental Implants in Houston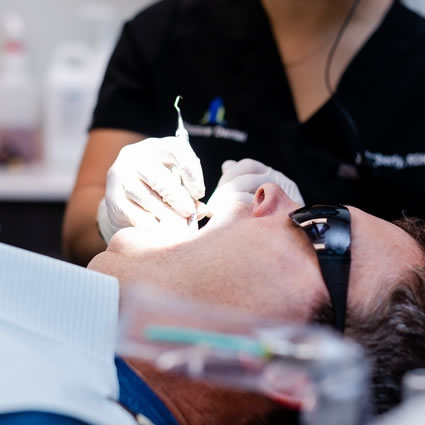 You only have one smile. For someone with missing teeth, traditional tooth replacement options are often removable or compromise the integrity of adjacent teeth in the process. At Discover Dental, Dr. Tran offers a better alternative: dental implants.
What Are Dental Implants?
A dental implant is an artificial replica of a real tooth. When you lose teeth, you don't just lose the visible crown portion above the gums, you lose the root as well. Any restoration that replaces the visible portion needs something to attach to. Dental implants are a prosthetic anchored into the jawbone, supporting your fixed restoration as if it were a real tooth.
As an artificial replica of tooth roots, dental implants are non-invasive to adjacent teeth. They also feel and function more like a real tooth than any other treatment. Because they're crafted from hypoallergenic materials, your body naturally recognizes the implant as part of your smile, which leads to a fusion process called osseointegration. Properly maintained implants can easily last at least 25 years or more.
What Are Some Benefits?
No dietary restrictions
A minimally invasive treatment procedure
Look, feel and function like real teeth
Not invasive to adjacent tooth structures
Hypoallergenic and biocompatible
The Treatment Process
Dental implants require a two-phase process, where the dental implant is installed and then allowed to integrate with your bone. This minimally invasive procedure is possible by creating a small opening for the implant inside the jaw or installing it immediately after tooth removal. Recovery time is extremely minimal, with most clients feeling completely back to normal within 1-5 days.
Approximately 4-6 months later, most implants are fully integrated with the bone, supporting them. At this point, we uncover the implant, attach an abutment, and take an impression or scan of that area for your crown or other restoration. Upon cementing the final crown, your new restoration is complete and will function nearly identical to a real tooth.
Alternatives to Dental Implants
Traditionally, missing teeth resulted in one of three options: doing nothing at all, wearing a removable prosthesis, or reshaping adjacent teeth to attach another device (such as a bridge).
Dental implants offer a premier solution that is more lifelike and noninvasive to your surrounding smile, preserving normal chewing abilities and tooth alignment.
Are Dental Implants Right for You?
Reserve a consultation with us today to find out if you qualify for dental implant treatment.
CONTACT US

Dental Implants Houston TX | (713) 997-9390