Meet Dr. Hoa Tony Tran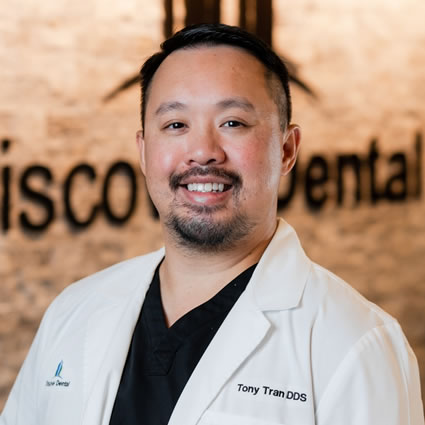 Dr. Tran is skilled in comprehensive restorative dentistry, offering additional services such as Invisalign orthodontics, digital dentistry, smile makeovers, and more. He is the founder of Discover Dental in Houston and prides himself on a preventative approach to patient care.
An Early Passion for Dental Care
Dr. Tran's affinity for dentistry began at a young age. Born in Southern California and raised in Houston, he began working as a dental assistant shortly after graduating from his high school in Pearland. Meanwhile, he studied at the University of Houston, graduating with a Bachelor's degree in Biochemistry.
From there, he studied dentistry at the University of Texas Health Science Center in San Antonio. Once he completed dental school, Dr. Tran returned to the Pearland area to begin sharing his love and passion for dentistry with his former neighbors, teachers, employers, and long-time friends.
A Different Approach to Care
With a passion for prevention-based care, Dr. Tran makes it his top priority to educate and "over-inform" his clients about their oral health conditions. Through knowledge, he becomes a partner in oral health with each individual, offering the restorative and therapeutic services they need, while they incorporate preventative strategies once they return home.
By implementing more advanced resources, such as same-day digitally printed dental crowns, biocompatible dental implants, and minimally invasive cosmetic veneers, Dr. Tran can essentially provide his clients with newly refreshed, healthier smiles they can feel proud of. These resources not only benefit your smile's appearance, but also extend the quality of your health and minimize the time spent in a dental office.
EXPLORE OUR SERVICES
Away From Work
When he isn't practicing dentistry, Dr. Tran enjoys adventurous trips abroad and serving people in our community.

Dr. Hoa Tony Tran | (713) 997-9390