Same-Day Dental Crowns in Houston
Crowns are protective restorations that cover your whole tooth (unlike fillings, which go inside of smaller cavities). They're used to rebuild and restore entire tooth surfaces when there is significant structural damage. At Discover Dental, we offer innovative same-day dental crowns, saving you time and improving the care experience.
The Same-Day Crown Procedure
Dr. Tran
offers same-day dental crown treatments, as opposed to traditional two-visit methods. This service is possible thanks to our in-house digital impression and scanning technology, as well as 3D printers.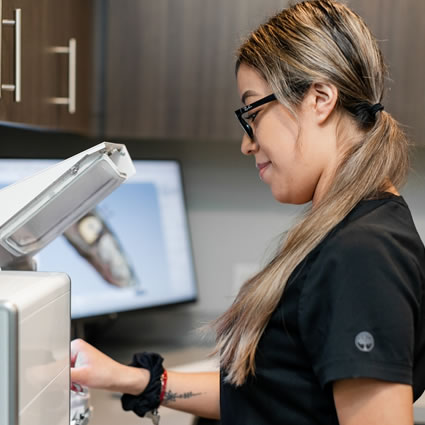 At the time of your treatment, Dr. Tran will prepare the tooth structure by removing any compromised or unhealthy surfaces. From there, we will add filling material to the tooth to create a smooth, uniform shape. Next, we use the digital impression tool to record a 3D model of your tooth, which our 3D printer uses to create the custom tooth-colored restoration. The entire procedure is typically completed within two hours.
Digitally-designed crowns are
Extremely accurate
Quicker to place
As strong as traditional dental crowns
More comfortable for our clients
Matched to the natural color of your smile
Crown Maintenance
The typical ceramic dental crown tends to last an average of 19-20 years, but Dr. Tran builds ours so that they can potentially last an entire lifetime. The key is to care for your crown properly, to ensure the underlying tooth remains as healthy as possible.
Daily flossing and brushing, as well as six-month checkups, are required. If you experience any sensitivity or the tooth is noticeable after treatment, you may need to come in to have it adjusted.
Same-Day Dental Care
Learn more about our digitally designed dental crowns. Contact us today for an appointment.
CONTACT US

Same-Day Dental Crowns Houston TX | (713) 997-9390